Salah satu atraksi di Boston yang terkenal saat musim panas adalah whale watch. Cuman berhubung harganya mahal, jadinya aku sama mas cari promosi di groupon Boston. Kebetulan waktu itu ada promosi, tapi bukan di Boston Harbour, melainkan di Cape Ann Glouchester, MA yang jauhnya 45 menit dari rumah. Karena harganya jadi lebih murah jadi kita beli paket promo di Groupon itu. Alhamdulillah gak salah pilih soalnya begitu cek review, memang salah satu whale watch yang di recomend orang-orang ini ya yang di Cape Ann.
Karena pesannya udah dari summer kemarin jadi kita sempat kelupaan kalau punya tiket itu. Untungnya inget di waktu yang tepat dan kita berhasil booking di hari terakhir whale watch season tahun ini. Kalau gak hangus deh tiketnya. Jadinya kita langsung cuss ke Glouchester deh yang mana kita itu di dubbed first city seaport at USA. Iya deh, apapun yang masih di area Massachusetts pasti paling tua di Amerika 😆
Karena hari itu udah mulai mendingin dan katanya kalau di laut lepas suhunya bisa lebih dingin dibanding di darat jadinya udah mulai berbuntel buntel kita pas mau whale watch.
Kita naik kapal namanya Hurricane dan langsung ambil posisi di deck paling atas. Kita menuju ke tengah lautan dan melewati pesisir pantai nya Glouchester yang diisi oleh rumah-rumah tua nan cantik. And we spot several light house also 🙂
Kalau kata pemandunya yang namanya whale watch ini sebetulnya untung-untungan. Apalagi yang di Cape Ann ini modelnya masih tradisional. Gak pake technology sonar dalam melacak ikan paus ini, melainkan pake jarak pandang aja. Kalau udah liat yang nyembur-nyembur di air nah dikejar deh ikan pausnya. Kebetulan pada waktu kita kesana kemarin dalam waktu setengah jam di laut ikan paus nya udah mulai keliatan. Ini agak-agak gak biasa soalnya pemandunya langsung kaget hehehe. Alhamdulillah.
Amazing banget. Sayang aku gak jago ambil foto moment nya. Jadi dapat nya pas lagi nyelam aja si ikan pausnya. Semenjak kemunculan yang pertama, langsung deh beberapa menit sekali bermunculan ikan pausnya. Dan puncaknya waktu kita ngikutin female humpback and her new baby whale. Diikutin pelan-pelan, eh gak taunya tiba-tiba mereka muncul ke samping kapal dan langsung splashing air ke penumpang kapal. 😆
I guess we are so lucky. Soalnya pemandunya, kejadian kayak ini highly unlikely dan bahkan mereka bilang sepanjang season 2013, hari terakhir itulah yang kita bisa dapat best sighting of the whales. Yaaay 🙂 It's pretty awesome sih melihat si ikan paus itu dari jarak dekat.
Begitu kita mau balik ke Cape Ann, kita papasan dengan kapal whale watch dari Boston Harbour. Wah ternyata tempatnya sama juga, cuman kebayang kalau mereka dari Boston Harbour pasti jarak ke tengah lautnya lebih lama daripada yang di Cape Ann.
Kembali ke Cape Ann saatnya makan siang, kita rencana mau cari makan siang di Rockport, Ma, kota tetangganya Glouchester, MA. Apa yang menarik di Rockport? Tau filmnya Sandra Bullock dan Ryan Renolds yang The Proposal kan? Nah ceritanya kan mereka pulang ke Sitka, Alaska. Tapi sesungguhnya yang dipakai sebagai latar belakang Alaska adalah Rockport, MA ini. Misalnya adegan yang ini: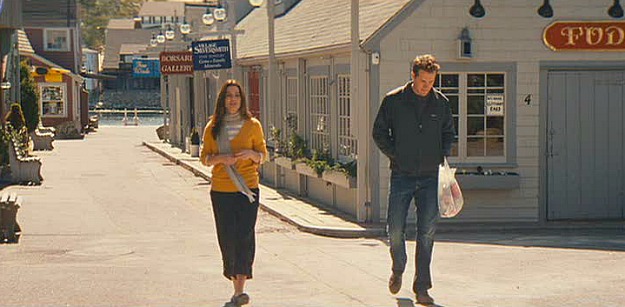 Nah pas main ke Rockport nemu deh lokasi yang sama persis dengan itu:
Untuk artikel lengkapnya soal Rockport, MA disulap jadi Sitka, Alaska bisa baca di artikel ini deh.  Rockport sendiri ada berbagai macam toko-toko mungil yang lucu. Dan di dock nya pemandangan ke lautnya juga bagus 🙂 A really nice little town 🙂
Dan di kota ini juga dijual strudel paling enak se Massachusetts. Tempat strudel nya kecil tapi manis banget. Dan selalu cepet abisnya. Nyumm 🙂
More pictures at Rockport:
Another great experience.. 🙂 Memang ternyata banyak kota yang bisa di jelajahi di Massachussets ini ya 🙂